Weaving God's Promises is a three-year formation curriculum for children ages 3 to 11, and youth ages 12 to 14. The curriculum is titled Weaving God's Promises after our process of faith formation in which we learn how God's promises of salvation are inextricably woven into our lives. Class sessions are structured around the Holy Eucharist, and the curriculum features special sessions for the seasons of the church year and lesson plans that are easy to understand and prepare.
Through this church school curriculum, we hope to foster the spiritual formation and growth of our children in Christ's love and mercy, to teach the spirit of forgiveness and reconciliation, and to send our children out into the world as Christ's ambassadors.
This new revised edition of Weaving God's Promises includes Weaving God's Beloved Community discussion questions in every lesson, inviting children to consider the implications of each lesson for social justice and life in community. Other revisions focus on ways to make the curriculum more inclusive, from introducing inclusive language and examples to removing food allergens from snacks.
Journey to Adulthood is an online, downloadable youth ministry program of spiritual formation for 6th-12th grades. Fully revised and updated, it is centered on inclusive, relational ministry and uses Bible study, prayer, rites of passage, and service projects. Creative, developmentally appropriate lessons are arranged within three categories of Self, Society, and Spirituality.
The curriculum is arranged into three modules: Rite 13, J2A, and 4Ward:
The Rite 13 program (for 11-13 years old) assists young people as they begin to take the first steps of independence from their families into their own lives and creates a safe haven in which to explore new ideas, new interests, and new abilities.
J2A (for 13-15 years old) helps teens create and understand the importance of Christian community as they develop critical thinking and other skills they will need in adulthood.
4Ward (for 15-18 years old) is a mentor-based program helps older teens discern and carry out a ministry within their church or in the larger community. A final rite of passage sends them out into the world as ambassadors of Christ.
The cost of an annual subscription is based on your church's Average Sunday Worship Attendance (AWA). There are four tiers ranging from the lowest of under 100 to the top tier of 500+ attendees.
Subscriptions will be automatically renewed each year.
To learn more about each program and how to use the planner, calendar, and other features, take advantage of our free webinars. See the schedule of upcoming webinars here.
By purchasing a license to access and use, or engaging in a free trial to access and use, the educational materials, activities, audio/visual works and other items that make up RiteFormation ("Materials") from Church Publishing Incorporated (the "Publisher"), you, on behalf of yourself or, if you are eligible to represent your organization, then on behalf of your organization (in either case "You" or "Your"), agree to abide by these terms and conditions. The collection and use of any personal information collected by the RiteFormation website is governed by the Publisher's Privacy Policy.
AUTHORIZED USES
Publisher grants the following rights to You:
Print copies of the Materials, including books, workbooks, stories, activity guides, coloring sheets, webinars, games, slide presentations, may be used solely for Your church or organization.
You may publicly perform excerpts from Materials, such as music, only at events sponsored by your church or organization.
Translate any portion of the Materials into any other language for church use only, during the term of the license
UNAUTHORIZED USES
All other rights and authorized use of RiteFormation, besides the above Authorized Uses, are retained by the Publisher and are subject to separate permission. You agree not to do any of the following:
Prepare new musical arrangements of copyrighted text or music on the RiteFormation website.
Distribute any Materials outside of your church
Post the Materials on another website.
Use any of the Materials, either in print or electronic form, after expiration of Your subscription or trial period.
Any other use not specifically authorized.
The Publisher may terminate your license or deny access to specific users at its sole discretion if any of the above occurs.
ASSIGNMENT OF THIS LICENSE
This subscription may result in multiple logins made available to You for use by individuals within Your organization. The rights granted by this license are not transferable to any other individual, church, congregation, or organization without express written permission from the Publisher.
DURATION OF THIS LICENSE AND AUTOMATIC RENEWAL
Unless You have purchased a license for a special term, RiteFormation licenses are annual and license renewal is automatic and will result in a charge to Your account unless You provide notice of non-renewal 30 days before the anniversary of Your subscription.
DESTRUCTION OF MATERIALS UPON LICENSE EXPIRATION
Once Your license has been terminated, then all printed and electronic copies or originals of the licensed Materials must be destroyed by You.
PARENTAL OR GUARDIAN PERMISSION
Children under the age of 13 are not permitted to use the RiteFormation website but are encouraged to use the Materials under Your supervision in accordance with these terms and conditions.
LIMITATION OF LIABILITY
When using the RiteFormation website, information may be transmitted that is beyond the control of Publisher and Publisher assumes no liability for or relating to the delay, failure, interruption or corruption of any data or other information transmitted in connection with use of this program or web site. Access to and use of this website and content is provided on an "AS-IS" basis. PUBLISHER DISCLAIMS ALL WARRANTIES, EITHER EXPRESS OR IMPLIED, INCLUDING BUT NOT LIMITED TO THE IMPLIED WARRANTIES OF MERCHANTABILITY, TITLE, NON-INFRINGEMENT OF THIRD PARTIES' RIGHTS, AND FITNESS FOR A PARTICULAR PURPOSE. PUBLISHER MAKES NO REPRESENTATION OR WARRANTY AS TO WHETHER THE INFORMATION ACCESSIBLE VIA THIS WEB SITE, OR ANY SITE TO WHICH IT IS LINKED, IS ACCURATE, COMPLETE, OR CURRENT. In no event shall Publisher be liable for any damages (including, without limitation, incidental and consequential damages, money damages, lost data, or damage to Your computer system due to viruses or other defects), whether such claim is based upon warranty, contract, tort, or any other legal theory, and whether or not Publisher is advised of the possibility of such damages.
This agreement shall be governed by and construed in accordance with the laws of the State of New York, without reference to the conflicts of law provisions of such State.
The parties hereto agree that any suit, action or proceeding to enforce any provision of, or based on any matter arising out of or in connection with, this agreement or the transactions contemplated hereby shall be brought in the United States District Court for the Southern District of New York or any New York State court sitting in New York, New York, and each of the parties hereby irrevocably consents to the jurisdiction of such courts (and of the appropriate appellate courts therefrom) in any such suit, action or proceeding and irrevocably waives, to the fullest extent permitted by law, any objection that it may now or hereafter have to the laying of the venue of any such suit, action or proceeding in any such court or that any such suit, action or proceeding which is brought in any such court has been brought in an inconvenient forum.
A 14-day free trial is available for both Weaving God's Promises and Journey to Adulthood. A free trial includes six downloads of your choice for each program and allows you to build plans and add additional users for the complete experience.
It's a good idea to write down your subscription number, in case you need it after your free trial has expired. When you're logged in, select My Account/Subscription from the main navigation area: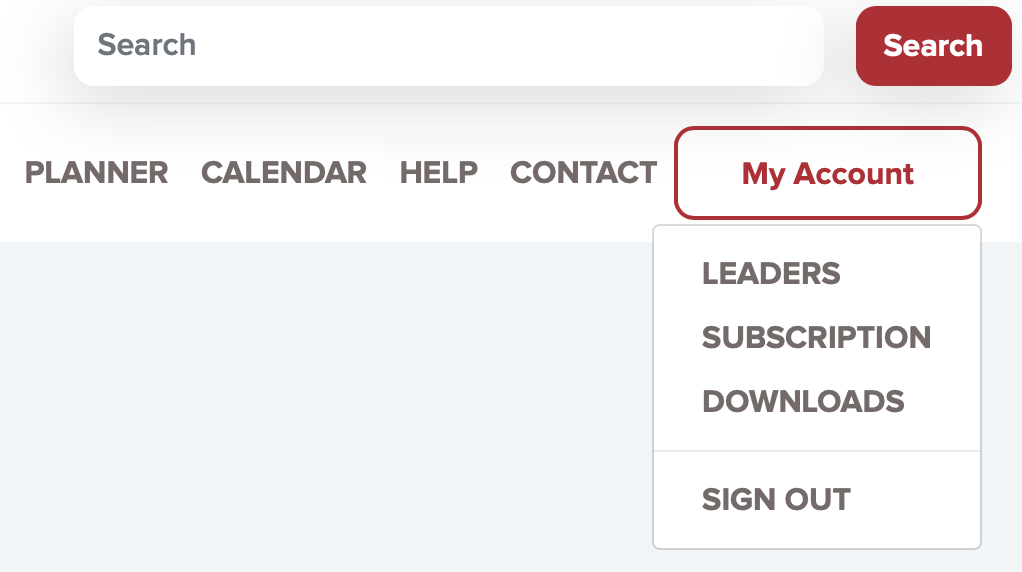 Your subscription number will be displayed as below. It includes the RF at the beginning of the series of digits:

To upgrade your free trial to a paid subscription, click the Subscribe link in the Subscription Type row. A pop-up window will appear. Click the Sign up button, where the Trial Subscription Number field will be pre-filled with your number: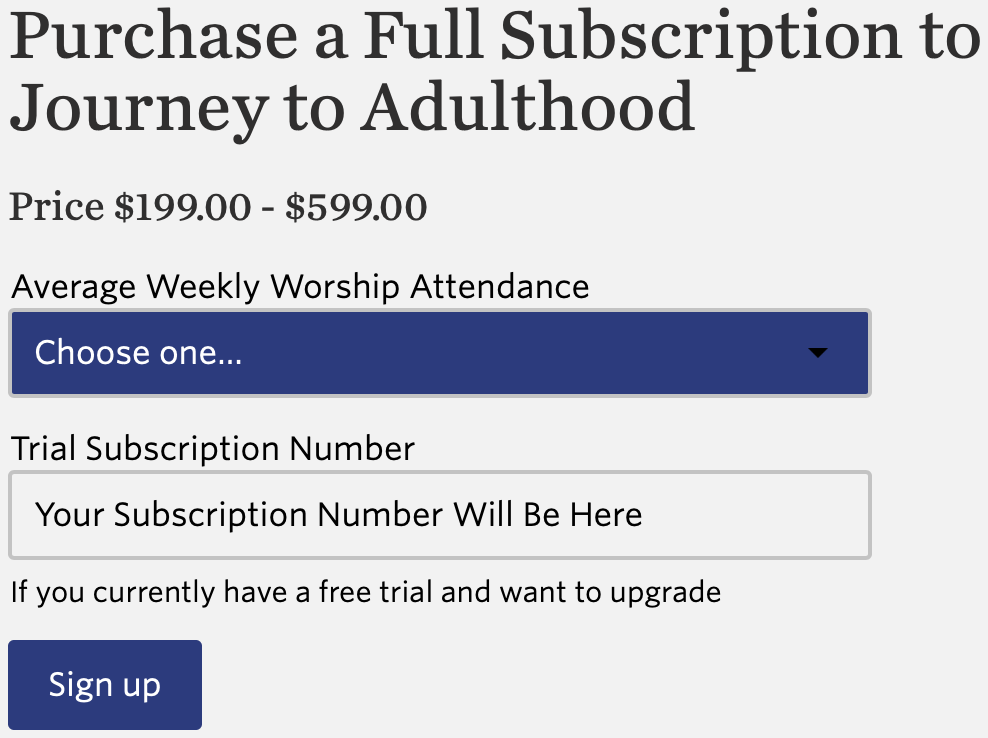 Select your Average Weekly Worship Attendance and click the Sign up button.
If your free trial has expired, you won't be able to pre-fill the Trial Subscription Number field, but if you wrote the number down as noted above, you can go to the Weaving God's Promises or Journey to Adulthood product page, depending on the free trial you have, and enter it manually.
Please note that the Augsburg Fortress webstore is a different website and separate from your subscription login.
If you run into any difficulties with the upgrade process, please contact our software support team at webhelp@augsburgfortress.org, or call 844-993-3811, Monday through Friday, from 8:00 am to 4:30 pm (Central Time).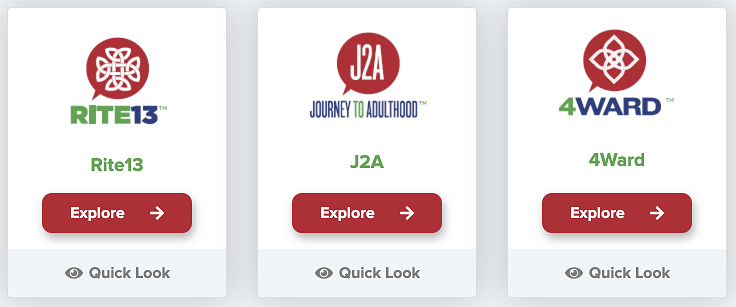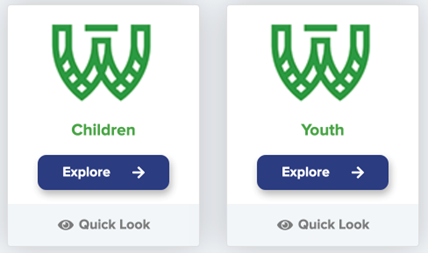 The home page serves as the starting point for the Library. Click the Explore button to look further into the contents of any module. To learn more about each module, click on the Quick Look button, which includes a summary of key features and a downloadable Scope and Sequence.
Once you click on a module, the page will display the units and extras available in that module.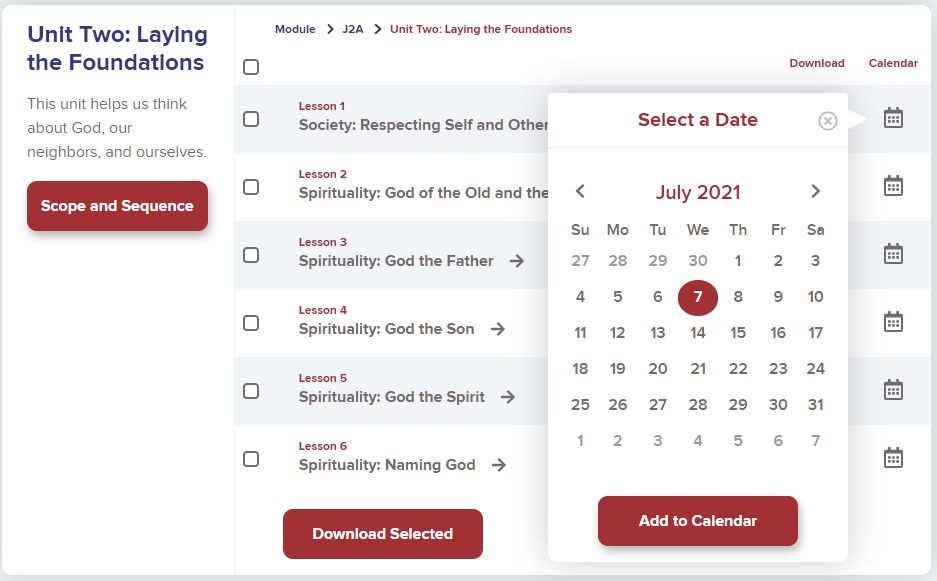 When you click on the Unit of your choice, you will navigate to the Lessons in that Unit. From this layer forward, access key tools on the right side of your screen, including the option to download all resources and add the item to your Calendar (only Directors see this tool). If you want to see what's inside any Lesson, click on the title to preview, download, or add to calendar.

The default for the Calendar provides a one-month view of content planned by your church in this Age Group. You can change the month you're looking at in several ways:
Using the arrows on either side of the month name to move ahead or back
Clicking on the month name and choosing another month in the drop-down
Changing the year using the year drop-down at the left
If you have any content planned for a particular day, it will show here. If a full lesson has been planned, it shows that title. Click on the arrow tool at the left of each row to expand any listing. If the content belongs to a Plan you've created in the planning area, the name of that Plan is shown. Directors can click on this to edit that Plan.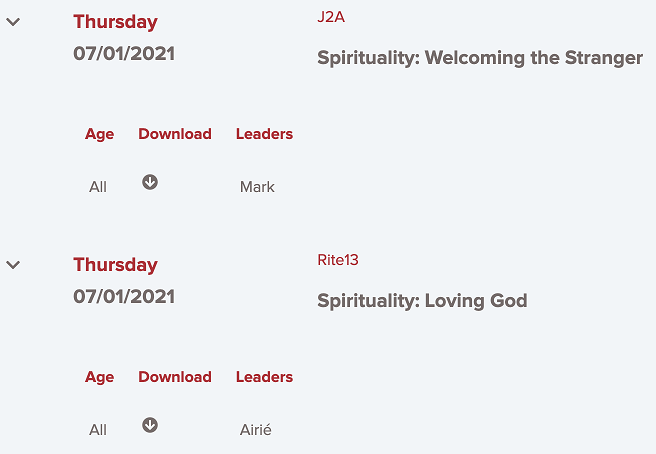 In the expanded view of any listing, download resources and see who has been assigned to lead that lesson for each age level. If your name is listed, it's highlighted to draw your attention to your assignment(s).
If you are a Director, you can click the Edit button at the right of each listing to produce an overlay, allowing you to edit all aspects of that listing.
In addition to the monthly view, you can see a weekly view by clicking on the Week View button at the right. The Week View provides the information you see in the expanded listing view in the Month View. Switch between the Week or Month View by using tools similar to those on the Month View.
On either view, Directors will see a "New Lesson Plan" button at the lower right. This button takes you to the beginning of the planning workflow – the same as the link in the top navigation.
Plan is restricted to users with Director permissions. There is no limit to the number of directors that you can have on your team per Age Group. Permissions are set in the Account area.
Once you enter the planning area, you will walk through three easy steps to put together your plan for a timeframe that you designate.
Step One: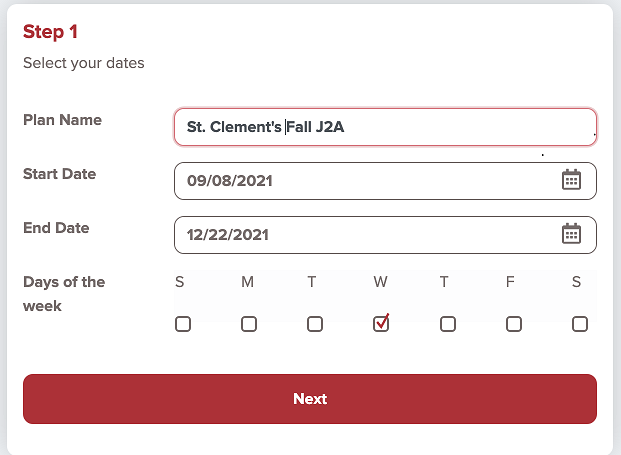 The first step is to set the Start and End Dates for your Plan, and to the day(s) of the week for your Plan. Once these are set, click the Next button. (If you need to make changes to this in the future, you can manually edit your choices later in the planning process.)
Step Two: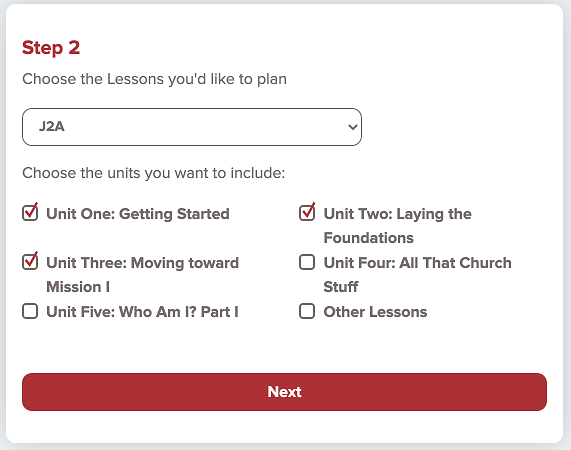 In step two of the planning process, choose a module and the system will populate the Units. Choose the ones (you can select more than one) that you need for your plan. Once selected, click next.
Step Three: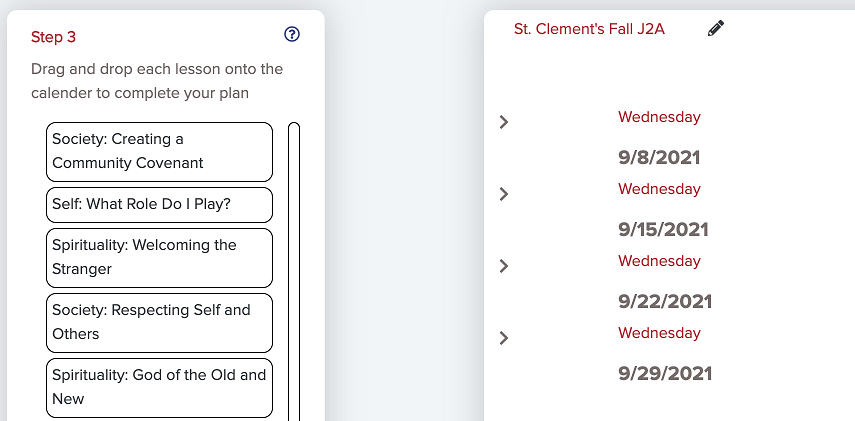 In step three, you customize your Plan based on your needs. At the left, view a list of all lessons that are in the Units you selected. Use the Plan More Lessons button at the bottom of this page to return to step two and make any changes or updates.

Drag any lesson at the left to a date in the main panel. Once you drag the lesson on top of your chosen date, it will highlight to indicate your selection. Releasing your mouse on that date will schedule the lesson for that date and the title will appear on that listing. Continue to follow this process until your Plan reflects the content and dates for your needs. Use the tools at the top of the page to advance the month, which are the same as on the Calendar page.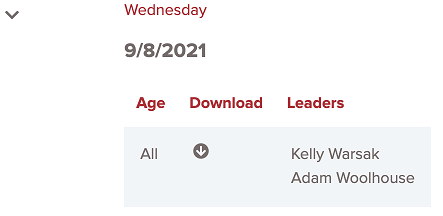 Once you assign a Lesson, expand that listing to see the Leaders assigned, which you can attribute in the Account area. This view also allows you to download the resources for each planned Lesson.

Edit any listing in your Plan by using the Edit tool (indicated by a pencil) on the right side of your screen. When you click Edit, an overlay will allow you to change any aspect of this listing: date, module, unit, lesson, or leaders.
For Leader assignments, view who is assigned. If you need to make a change, remove any Leader from this item by clicking the "x" by their name. Add another enrolled Leader using the "Add Leader" drop-down on the right. This screen will also allow you to Delete the entire listing. Click the Save button to save your changes and close the overlay.
Important note: All of your work continuously saves as you work on your Plan.
My Account allows you to manage all aspects of your subscription, including subscription status, downloaded files, and enrolled Leaders.
Directors control who accesses your subscription. Leaders can edit their own profile here but cannot view or edit other users' profiles.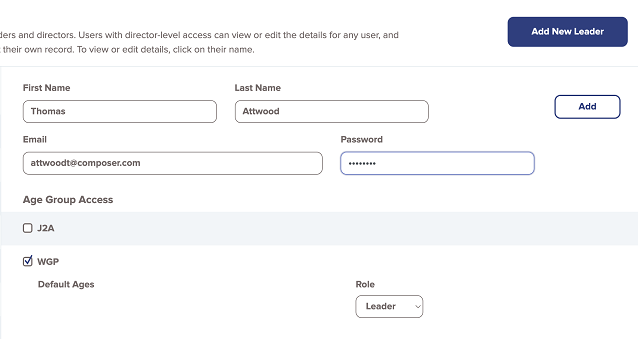 Click on Add New Leader in the upper right corner to create a new record in the list on the left (not shown in this screenshot). Fill in name, email address, and password, and click Add. The site doesn't notify this new leader automatically, so do remember to let them know that they now have access and possible assignments.
Directors can edit anyone's name, email address. In addition, a Director can help a locked-out user by clicking on the "Change Password" link under the Password field, which will trigger an email sent to the email address shown. (Note: Users will also see a "Forgot Password" link when they log in, triggering this same workflow.)
For questions or to get help, please contact our software support team by email, or call 844-993-3811, Monday through Friday, from 8:00 am to 4:30 pm (Central Time).
Journey to Adulthood was created by Saint Philip's Episcopal Church, Durham, North Carolina, with materials written and developed by Sally French, Elizabeth DeGaynor, Tim Holm, Isaac Arten, Jenny Puri Beaumont, Sarah Bentley Allred, Sadie Koppelberger, Miriam McKenney, and Kristen Tossell Pitts.
Weaving God's Promises was created by Joanna Leiserson, with materials written by Joanna Leiserson, Doris Ash, and Maggie Paul Baker.